Aquarelles: Debussy & Hahn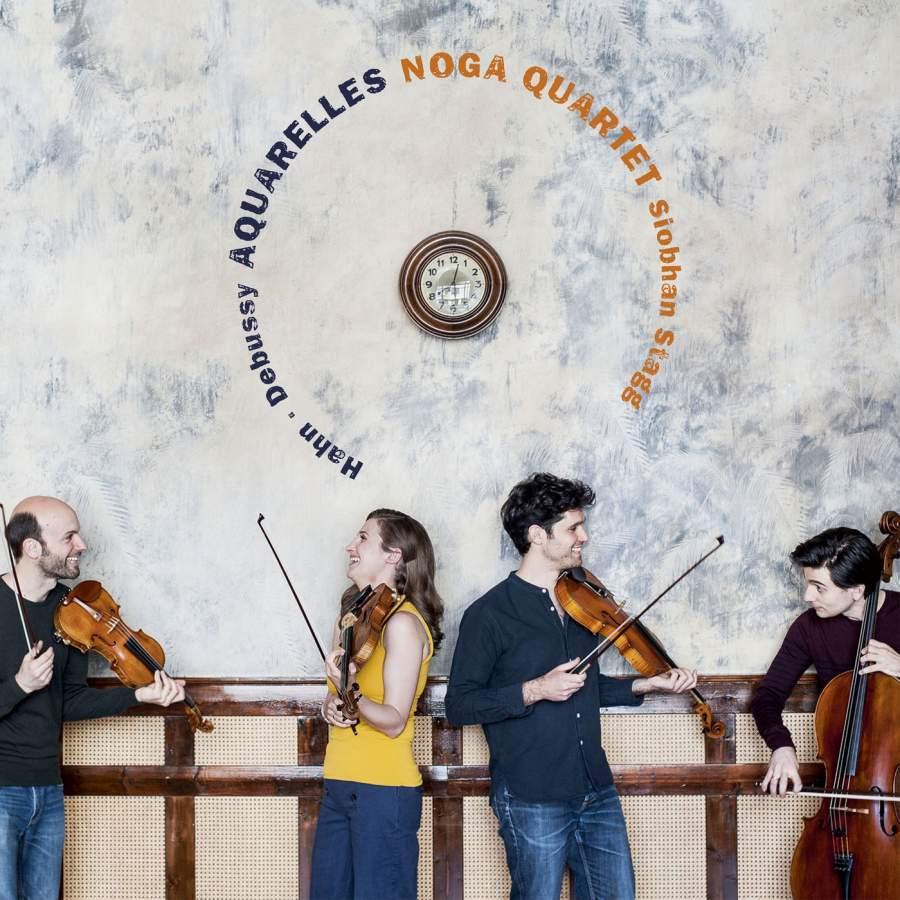 Aquarelles: Debussy & Hahn
The debut album from the Noga Quartet follows the great tradition of chamber music that enthrals in performances of some of the greatest compositions of the string quartet repertoire.
Playing string quartet is a matter of the heart for all four members of the Noga Quartet. Avishai Chameides dreamed of playing viola in a string quartet ever since he was a child, but only after his musical career had taken him from conservatory in Givatayim and Tel Aviv to Milan and Berlin did he finally meet the three French musicians Simon Roturier, Lauriane Vernhes, and Joan Bachs, with whom he founded the ensemble ten years ago.
The Noga Quartet has won an impressive number of prizes: Premio Borciani in 2014, the Banff International String Quartet Competition in 2010 and 2013, the Osaka International Chamber Music Competition in 2011, and First Prize at the renowned Melbourne International Chamber Music Competition in 2015. The ensemble is regularly invited to perform in major concert halls and festivals in Germany, Austria, Italy, the Benelux countries, France, Scandinavia, and Canada. The members of the Noga Quartet are regularly present on the Berlin concert scene - also as members of the Berlin Philharmonic and the Deutsches Symphonie-Orchester. The quartet's approach - to develop a work from inside out in all of its details, and to immerse and abandon oneself to the music - leads to highly unique, finely explored interpretations, and that takes time.
Soprano Siobhan Stagg is one of the most outstanding young artists to emerge from Australia in recent years. Christa Ludwig has described Siobhan's voice as "one of the most beautiful I've ever heard."
Review
Admired for her beautiful lyric voice and impressive vocal range, Debussy dedicated his song cycle Ariettes oubliées ('forgotten songs') to Scottish soprano Mary Garden, for whom he also composed the role of Mélisande in Pelléas et Mélisande. Australian soprano Siobhan Stagg, who recently won a Green Room Award for her portrayal of that very same French operatic heroine, has lent her equally beautiful voice to the enchanting cycle. Like Garden, Stagg is as splendid singing Debussy's art songs as she is performing his operatic music. Rather than the original piano accompaniment, Berlin-based Noga Quartet – whose sound world is apt for Debussy's impressionist music – joins Stagg in this new recording for Challenge Classics.
In 'Chevaux de bois' ('Wooden horses'), Stagg effortlessly throws her voice around Debussy's frolicking music as she describes a joyous child's carousel ride. Languorous 'Il pleure dans mon coeur' ('Tears fall in my heart') reveals another side to her voice: deep, luscious, and able to unfurl a beautiful high note with utmost delicacy, to eventually reveal that same controlled richness of her lower register.
Bookending Ariettes oubliées are Hahn's String Quartet No. 2 in F major and Debussy's String Quartet in G minor – the former previously unknown to me. I adore Hahn's songs, and it was a treat to acquaint myself with his chamber music. Composed in 1943, towards the end of his life, Hahn's second quartet bears the hallmarks of its French predecessors: elegant, sensual, and at times tonally ambiguous. More familiar is Debussy's quartet in G minor, his sole contribution to the genre, which shifts between moments of exuberance and great darkness. The young members of the Noga Quartet give fine, highly nuanced performances of both the Hahn and Debussy, and all the while possessing the unity of a mature ensemble. A fabulous recording.
---
Alexandra Mathew is a classical music specialist at Readings Carlton.
This item is not currently in-stock, but it's available to order online.
Please note, our stock data is updated overnight, and availability may change throughout the day. Prices are subject to change without notice.