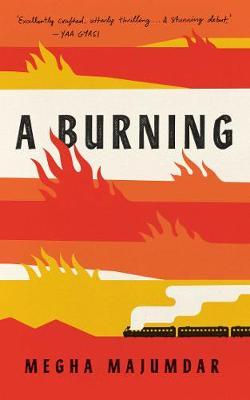 A Burning
A girl walks through the slums of Kolkata holding an armful of books. She returns home smelling of smoke, and checks her most prized possession: a brand-new smartphone, purchased in instalments. On Facebook, there is only one conversation. #KolabaganTrainAttack
On the small, glowing screen, she types a dangerous thing: 'If the police didn't help ordinary people like you and me, if the police watched them die, doesn't that mean that the government is also a terrorist?'
Set in contemporary India, A Burning is the story of three unforgettable characters, all dreaming of a better future, whose lives are changed for ever when they become caught up in the devastating aftermath of a terrorist attack.
Jivan - a poor, young, Muslim girl, who dreams of going to college - faces a possible death sentence after being accused of collaborating with the terrorists. Lovely - an exuberant hijra who longs to be a Bollywood star - holds the alibi that can set Jivan free, but telling the truth will cost her everything she holds dear. PT Sir - an opportunistic gym teacher who once taught Jivan - becomes involved with Hindu nationalist politics and his own ascent is soon inextricably linked to Jivan's fall.
Taut, propulsive and electrifying, from its opening lines to its astonishing finale, A Burning confronts issues of class, fate, prejudice and corruption with a Dickensian sense of injustice, and asks us to consider what it means to nurture big ambitions in a country hurtling towards political extremism.
A Burning is a novel for our times and for all time.
Review
Already garnering the kind of praise from high-profile authors and international reviewers that a debut author might only dare dream of, A Burning has the feel of one of the 'must read' titles of 2020. Written by an author born and raised in India, but now living and working in New York City, this book is a compellingly written portrait of contemporary life in Kolkata, but is also a story that taps into the issues facing many nations around the world: the building forces of conservative and nationalist interests; anti-Muslim sentiment and the impacts of religion in secular societies; the desires of the individual in a community; the impacts of poverty, inequality, corruption, racism, and terrorism; the traces we leave of ourselves on social media, and, chillingly, their potential to be our undoing.
These huge themes are played out in miniature, impacting a cast of small and ordinary lives. Three intertwined characters star here in alternating chapters, each episode as involving as the last. Propelling the chain of events is an ill-considered Facebook post made by Jivan in the wake of a terrorist attack. In the blink of an eye (or, more fittingly, in the time it takes to write a post), this young Muslim woman finds herself in deep trouble with the law, and at the mercy of a failing system of justice. PT Sir, the gym teacher at her former high school harbouring growing political ambitions, becomes implicated in her fate, as does Lovely, an aspiring Bollywood star to whom Jivan had been giving English lessons.
Most striking about this novel is the richness of detail that brings this captivating moral tale to life. If you read books for 'feelings' – both those the characters experience and your own as you read – then this book is for you. I couldn't help but be caught in its grip. I think Megha Majumdar is a name we will come to know well; her talent for storytelling is undeniable.
---
Alison Huber is the head book buyer at Readings.
This item is in-stock and will ship in 2-3 business days
Please note, our stock data is updated overnight, and availability may change throughout the day. Prices are subject to change without notice.