Schmelzer: The Emperor's Fiddler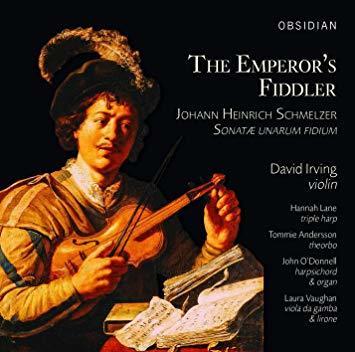 Schmelzer: The Emperor's Fiddler
Johann Heinrich Schmelzer was a leading violin virtuoso in mid-seventeenth-century Europe, highly favoured by Holy Roman Emperors Ferdinand III and Leopold I. His six Sonatæ unarum fidium (Sonatas for one fiddle) take pride of place in the history of violin music as the earliest collection of sonatas published by a native German-speaking composer, in 1664. These works cover the full gamut of emotions, from extreme passions and extravagant virtuosity to the most intimate and profound expressions of poetic introspection, with elegant dances inserted for good measure.
Schmelzer likely played violins made by Jacob Stainer, the most celebrated luthier in Europe, whose violins were renowned for their fine silvery tone and long considered superior to Cremonese models. Here the sonatas are performed on a replica of a c.1670 Stainer violin, with strings in equal tension; the bow is based on seventeenth-century designs and is short and light, with its hair at high tension. This disc explores the lavish soundworld and rich musical invention of the emperor's fiddler.
Review
Relatively little is known about Austrian composer Johann Heinrich Schmelzer (1623–1680), despite being described during his lifetime as 'the famous and just about foremost violinist of all Europe'. Indeed, his six sonatas for violin and continuo–the sonatæ unarum fidium–are among the earliest examples of this genre. The sonatas consist largely of variations, allowing the violinist displays of virtuosity alongside passages of great restraint. For the Obsidian label, Melbourne-based baroque violinist and scholar David Irving has newly recorded the sonatas on a Jacob Stainer replica violin, an original of which was likely played by Schmelzer himself.
Along with harpist Hannah Lane, gambist Laura Vaughan, theorbist Tommie Anderson and keyboard player John O'Donnell, Irving has set out to recreate Schmelzer's music as it might have been heard at the time of composition. This is quite the exercise, explained in detail in the sleeve notes, in which Irving describes fascinating particulars of elements of performance practice employed: tuning, stringing, and style of basso continuo. Of course, this may be quite a dry exercise if the music itself were not so beautiful, or so beautifully played. Recorded in the natural acoustic of St Fidelis Parish Church, West Coburg, Irving and his colleagues produce a sound that is both warm and clear, with the spontaneity of a live recording and the precision of a studio one. Irving's own performance is both intelligent and musical, and he plays the many technically demanding passages with skill, accuracy and–importantly–flair.
Slightly incongruous is the inclusion of Johann Caspar Kerll's passacaglia in D minor, performed on organ by John O'Donnell. While well played, the slightly gloomy sound of the organ interrupts the meditative atmosphere of Schmelzer's sonatas. That said, there's little else to complain about on this impressively researched and divinely performed recording.
---
Alexandra Mathew is a classical music specialist at Readings Carlton.
This item is in-stock and will ship in 2-3 business days
Please note, our stock data is updated overnight, and availability may change throughout the day. Prices are subject to change without notice.