The Ministry of Utmost Happiness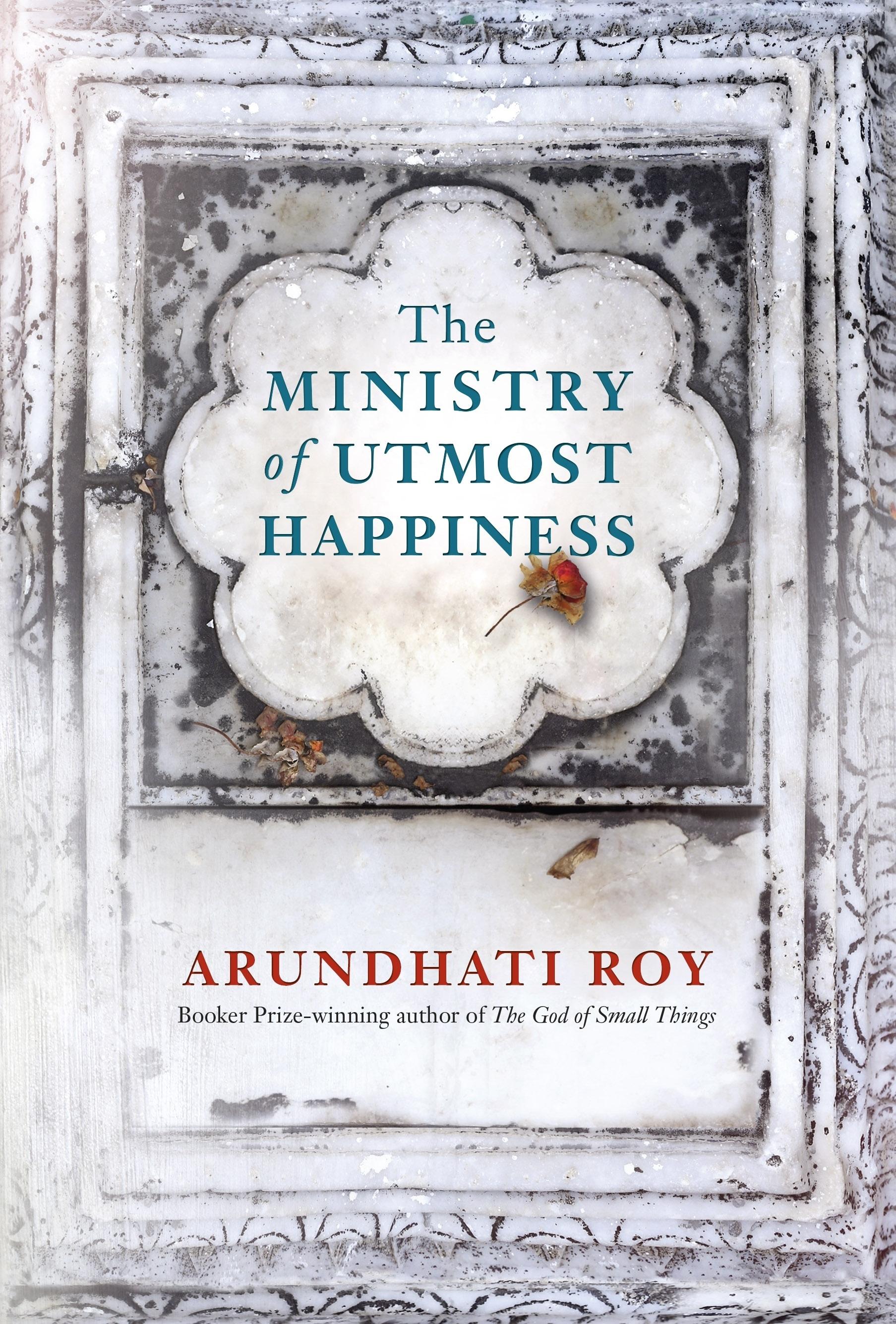 The Ministry of Utmost Happiness
A richly moving new novel - the first since the author's Booker-Prize winning, internationally celebrated debut,
The God of Small Things
, went on to become a beloved best seller and enduring classic.
The Ministry of Utmost Happiness
takes us on an intimate journey across the Indian subcontinent - from the cramped neighbourhoods of Old Delhi and the glittering malls of the burgeoning new metropolis to the snowy mountains and valleys of Kashmir, where war is peace and peace is war, and from time to time 'normalcy' is declared.
Anjum unrolls a threadbare Persian carpet in a city graveyard that she calls home. We encounter the incorrigible Saddam Hussain, the unforgettable Tilo and the three men who loved her - including Musa whose fate as tightly entwined with hers as their arms always used to be. Tilo's landlord, another former suitor, is now an Intelligence officer posted to Kabul. And then there are the two Miss Jebeens: the first born in Srinagar and buried, aged four, in its overcrowded Martyrs' Graveyard; the second found at midnight, in a crib of litter, on the concrete pavement of New Delhi.
At once an aching love story and a decisive remonstration, a heart-breaker and a mind-bender, The Ministry of Utmost Happiness is told in a whisper, in a shout, through tears and sometimes with a laugh. Its heroes are people who have been broken by the world they live in and then rescued, patched together by acts of love - and by hope. For this reason, fragile though they may be, they never surrender.
Braiding richly complex lives together, this ravishing and deeply humane novel reinvents what a novel can do and can be. And it demonstrates on every page the miracle of Arundhati Roy's storytelling gifts.
Review
It's unusual to come across a novel that makes you feel like you are part of a world, and simultaneously totally ignorant of every aspect of that world. This paradox of belonging is what I've taken away from Arundhati Roy's long-awaited second novel, The Ministry of Utmost Happiness. At the centre of this book is a powerful and mesmerising woman: Anjum, a Hijra matriarch and landlady of a guesthouse she built herself (in a cemetery, no less). Everything seems either to come from, or come back to, Anjum. At times, this focus is direct, but often Anjum's story flits in and out of the spotlight. I found this to be a fascinating way to craft a protagonist.
Roy's prose crackles with electricity, and has an irresistible poetry to it. Something that fascinates me about Roy is that I find her writing to be at its best when she writes about unpleasant things. As in her first novel, The God of Small Things, Roy makes traumatic incidents visceral, but in a bizarrely respectful way. When she does write about terrible things, she does so in a way that forces you to realise that sadness is just one of many threads woven into life's rich tapestry.
This is what I like to term a 'big' book. Its characters are many, its plot sprawling and its setting ever-changing. Reading becomes immersive experience. There's a distinct Dickensian aftertaste to it – its characters are at once larger than life and entirely believable. It does not, however, have the distinctly rigid narrative arc that is so common to Dickens's novels. Roy is not interested in tying her ends up neatly – this unruly story bleeds out beyond its beginning, middle and end. This is a novel of unlikely mothers, lucky children, trauma, war, happiness, belonging and identity. It's one of those rare, wonderful books that truly feels like real life.
---
Ellen Cregen works as a bookseller at Readings Doncaster.
This item is in-stock and will ship in 1-2 business days
Our stock data is updated overnight, and availability may change throughout the day for in-demand items. Please call the relevant shop for the most current stock information. Prices are subject to change without notice.