Sweet Caress: The Many Lives of Amory Clay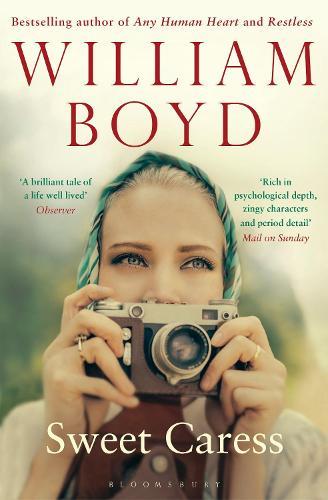 Sweet Caress: The Many Lives of Amory Clay
Amory Clay's first memory is of her father doing a handstand - but it is his absences that she chiefly remembers. Her Uncle Greville, a photographer, gives her both the affection she needs and a camera, which unleashes a passion that irrevocably shapes her future. She begins an apprenticeship with him in London, photographing socialites for magazines.
But Amory is hungry for more and her search for life, love and artistic expression will take her to the demi-monde of 1920s Berlin, New York in the 1930s, the Blackshirt riots in London, and France during the Second World War, where she becomes one of the first women war photographers.
In this enthralling story of a life fully lived, William Boyd has created a sweeping panorama of the twentieth century, told through the camera lens of one unforgettable woman.
Review
There's a small group of us at Readings who are great fans of William Boyd, with one of my colleagues claiming his Any Human Heart as one of her favourite books. Boyd is a master storyteller who weaves history into his narratives and does so absolutely convincingly. In Sweet Caress (as in Any Human Heart) he places his character against the broad sweep of history and, in this case, most of the twentieth century.
Amory Clay was born in 1908; she was supposed to be a boy and so was given the slightly androgynous name. When she was a teenager her father tried to drown them both by driving their car into a lake. Fortunately, it was shallow, although her father confided that he had thought it was deeper.
Later, an interest in photography leads her to become an assistant to her mother's brother, a society photographer. Then, bored, she moves to Berlin and photographs the clubs and brothels of the Weimar Republic. Her subsequent exhibition scandalises London society and, chastened, she moves to New York with the promise of a job as a photographer with an American magazine published by her married lover. As war looms, Amory is posted to London and then to France with the Allied invasion. One supposes that Boyd has drawn on the life of the American war photographer, Margaret Bourke-White, who was the first woman to be allowed to work in combat zones. Intriguingly, Sweet Caress is illustrated by Amory's photographs, photographs that Boyd has painstakingly found to match each period in Amory's career.
I enjoyed Sweet Caress immensely; it's a broad and compelling narrative artlessly told and demonstrates Boyd's great skill as a writer. In short, it's totally enjoyable.
---
Mark Rubbo is the Managing Director of Readings.
This item is in-stock and will ship in 2-3 business days
Please note, our stock data is updated overnight, and availability may change throughout the day. Prices are subject to change without notice.