Fury: Women Write About Sex, Power and Violence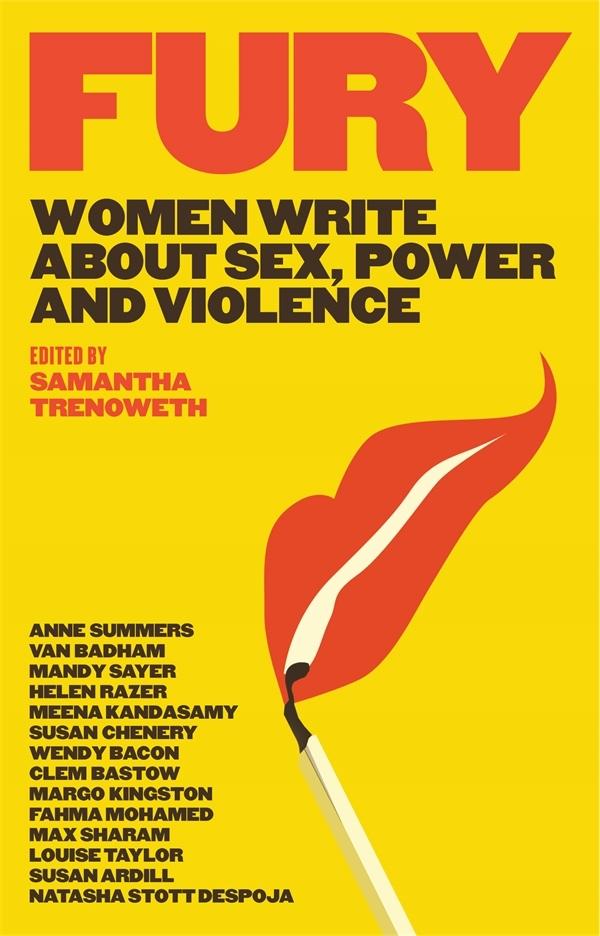 Fury: Women Write About Sex, Power and Violence
In Australia violence against women is a silent epidemic. By the age of 15 almost 20% of women have experienced sexual violence and more than one in three have experienced physical violence. One woman dies every week due to domestic violence in Australia. Violence against women is the leading contributor to death, disability and illness in women aged 15 to 44. Violence against women has been grabbing headlines all year: girls have been mutilated; girlfriends have been shot in bathrooms and thrown from balconies; wives have been burned; and mothers and kids have been left homeless by closing refuges.
In this collection, some of Australia's best women writers stare straight into the face of the monster and plot its defeat. Violence against women is a serious issue, but Fury is not a dry, academic tome. From personal perspectives to political perspectives to indigenous perspectives, this is a book of engaging, impassioned and intelligent narratives, perfect for a general readership.
Anne Summers writes about the early days of the women's refuge movement. Van Badham puts the ball back in men's court and asks what they can do. Mandy Sayer gives a moving account of her childhood, spent fleeing from a violent stepfather. Natasha Stott Despoja writes about family violence from a political perspective. Meena Kandasamy discusses violence against women in India. Clem Bastow urges us to stop tweeting and do something about misogyny.
Other contributors include Susan Chenery, Louise Taylor, Margo Kingston, Fahma Mohamed, Max Sharam, Wendy Bacon, Susan Ardill and Helen Razer.
Review
It's too easy to read statistics on violence against women and do nothing. The stats are alarming, but they rarely instigate change. Giving a voice to what's being called a 'silent epidemic' needs more than numbers. Fury: Women Write About Sex, Power and Violence, edited by Samantha Trenoweth, anthologises the sometimes controversial, always rational and very loud voices of twelve women writers. Together, their disparate opinions and styles form an immovable mountain of human experience. They are defiant in the face of decades of ingrained ideology, cultural taboo and cyclical behavioural oppression. They examine and name the roads to successful activism and call out helpless sympathy and wilful indignation. Theirs is a collective critique of the abuser: the individual, society at large, the media, policy and governance.
Beginning with a fictional story (that may or may not be based on true events) Trenoweth has ordered the anthology carefully and thoughtfully. In the first few pages of prose Australian culture and the associated attitude towards gender roles comes under attack. Though the story would do well to come with a trigger warning (as would each chapter that follows) it's also a deliberately cautious toe dipped into the pond before some much harsher facts and more impacting stories are revealed.
Anne Summers takes us back to the tumultuous beginnings of the first feminist women's refuge of the modern era, Elsie. Fahma Mohamed and Lisa Zimmerman take a stand against female genital mutilation and Clem Bastow despairs of 'online activism', asking for more than just a #hashtag response to misogyny. It's a quick, easy read, though the seriousness of the issues is never taken lightly.
Each of the writers Trenoweth has assembled is courageous in her storytelling and never claims a universalised female experience. The strength of the book is undoubtedly its collective voice, calling for collective change.
---
Tara Kaye Judah works as a bookseller at Readings St Kilda.
This item is not currently in-stock. It can be ordered online and is expected to ship in 3-6 days
Our stock data is updated overnight, and availability may change throughout the day for in-demand items. Please call the relevant shop for the most current stock information. Prices are subject to change without notice.