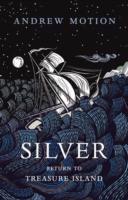 Silver
July, 1802. In the marshy eastern reaches of the Thames lies the Hispaniola, an inn kept by Jim Hawkins and his son. Young Jim spends his days roaming the mist-shrouded estuaries, running errands for his father and listening to his stories in the taproom; tales of adventures on the high seas, of curses, murder and revenge, black spots and buried treasure - and of a man with a wooden leg. Late one night, a mysterious girl named Natty arrives on the river with a request for Jim from her father - Long John Silver. Aged and weak, but still possessing a strange power, the pirate proposes that Jim and Natty sail to Treasure Island in search of Captain Flint's hidden bounty, the 'beautiful bar silver' left behind many years before. Silver has chartered a ship and a hardy crew for this purpose, whose captain is waiting only for the map, now locked away at the Hispaniola. Making haste from London, Jim and Natty set off in the footsteps of their fathers, their tentative friendship growing stronger day by day. But the thrill of the ocean odyssey gives way to terror as the Nightingale reaches its destination, for it seems that Treasure Island is not as uninhabited as it once was…Featuring a cast of noble seamen, murderous pirates, and stories of love, valour and terrible cruelty, Silver is a worthy sequel to Treasure Island - one of the greatest adventure stories ever told - and a work of extraordinary authenticity and imaginative power from one of England's greatest writers.
Review
by Mark Rubbo, Readings Managing Director
At the end of Treasure Island, Long John Silver and Jim Hawkins survive, but leave behind a handful of pirates and most of the loot. What happens when you put the ex-poet laureate, Sir Andrew Motion, together with this tale that Robert Louis Stevenson's wrote for his stepson in 1883? A rollicking good story and a worthy sequel!
Jim Hawkins' son, Jim Junior, and Long John Silver's daughter, Natty, set sail for Treasure Island to find the treasure their parents left behind. There they encounter evil and debauched pirates, pitiful downtrodden slaves and strange creatures. The years haven't been kind to the pirates and their leader, Smirke, seems to have a touch of dementia.
'It is and it isn't a children's book. I hope children of a certain disposition will like it but there's quite a bit of dark stuff in the story I'm writing – it's pretty grim,' said Motion. The story is told in Jim's voice as in the original, but this Jim has been educated so it has a different feel to the original. And of course, things have changed and the times are bit more genteel so the encounters with the uncouth pirates are quite a culture shock. Still there are lots of adventures to thrill and amuse.
Motion has pulled it off and his sequel is a great successor to the original.
Mark Rubbo is the Managing Director of Readings
This item is not currently in-stock. It can be ordered online and is expected to ship in 2-14 days
Our stock data is updated overnight, and availability may change throughout the day for in-demand items. Please call the relevant shop for the most current stock information. Prices are subject to change without notice.