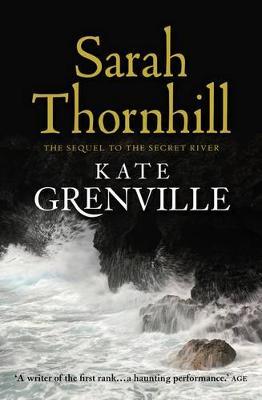 Sarah Thornhill
From the beginning Jack and I was friends. Somehow our way of looking at things fitted together. He never called me Dolly, the way the others did, only my full and proper name. Sarah Thornhill is the youngest child of William Thornhill, convict-turned-landowner on the Hawkesbury River. She grows up in the fine house her father is so proud of, a strong-willed young woman who's certain where her future lies. She's known Jack Langland since she was a child, and always loved him. But the past is waiting in ambush with its dark legacy. There's a secret in Sarah's family, a piece of the past kept hidden from the world and from her. A secret Jack can't live with. A secret that changes everything, for both of them. Kate Grenville takes us back to the early Australia of The Secret River and the Thornhill family. This is Sarah's story. It's a story of tangled secrets, a story of loss and unlooked-for happiness, and a story about the silent spaces of the past. This powerful novel will enthrall readers of Kate Grenville's bestselling The Secret River, winner of the Commonwealth Writers' Prize.
Review
by Mark Rubbo, Managing Director of Readings
The Secret River was a landmark in contemporary Australian fiction. In a powerful and engaging novel, Grenville confronted the issue of European occupation of Aboriginal land. Sarah Thornhill continues that narrative and, like that earlier book, is loosely based on an incident in Grenville's family history.
There were rumours in her family of a girl who'd had a dark-skinned child out of wedlock. Grenville has taken this rumour and reworked it into her narrative. Sarah Thornhill (Dolly) is William Thornhill's youngest child by his first wife, who died shortly after Dolly's birth. Dolly has a troubled relationship with her strict and ambitious stepmother, Ma. William has done well for himself as a freed convict, with 300 acres of waterfront land on the Hawkesbury and the grandest house on the river. As an emancipist, in spite of his success, he remains low on the colony's social hierarchy. Strong-willed young Dolly dotes on her older brother Will, who goes to sea after the seals. Will is always accompanied by his friend and neighbour, Jack Langland, who (as commonly known but never spoken of) is the product of a liaison between his father and an Aboriginal woman. Grenville's evocation of the lives and tensions in this small community are masterful. Dolly develops a deep affection for Jack and looks forward to his homecoming more than she does her brother's. As the years slip by, Dolly and Jack's relationship deepens and they become secretly betrothed. As the seal population is decimated, Will and Jack have to go to more dangerous waters (in New Zealand) to hunt; one summer Jack returns alone.
Overall, Sarah Thornhill is a deeply satisfying historical novel that does not shy away from issues that continue to be relevant today. It's also a great love story with the enigmatic and strong-willed Dolly at the centre – it will deservedly be one of the most discussed books this season.
Mark Rubbo is Managing Director of Readings
Sarah Thornhill is available now in paperback ($34.95) and ebook ($14.96).
A book by Booki.sh
This item is not currently in-stock. It can be ordered online and is expected to ship in 3-7 days
Our stock data is updated overnight, and availability may change throughout the day for in-demand items. Please call the relevant shop for the most current stock information. Prices are subject to change without notice.