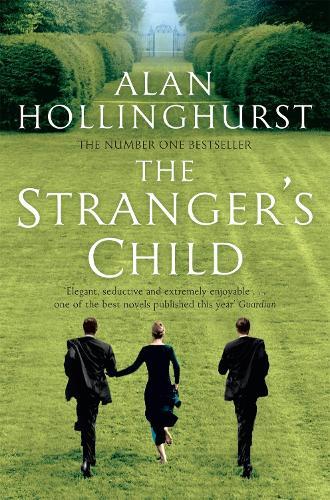 The Stranger's Child
Alan Hollinghurst's first novel since The Line of Beauty, winner of the 2004 Man Booker Prize It is the late summer of the last year before the first Great War. Cecil Valance, a beautiful young aristocratic poet, is visiting Two Acres, the home of his Cambridge friend and lover, George Sawle. On his departure, Cecil leaves a poem, dedicated to George's younger sister Daphne, which when published becomes a touchstone for a generation, symbolizing an England in its final glory. Meanwhile Daphne has also become involved with Cecil's family, visiting their Victorian Gothic country house, Corley, and developing a relationship with Cecil's brooding, manipulative brother, Dudley, that will link the families for ever. The Stranger's Child begins as a novel about two families and two houses: by the time it reaches its profound and moving conclusion, it has become an epic tale told in five parts covering almost a hundred years. Like The Line of Beauty, this is a deliciously funny novel, glittering with acute observation and arch insight into the worlds of those who belong and of those who are excluded, of carefully hidden secrets which are finally, dramatically revealed.
Review
by Pip Newling, Readings Hawthorn
The Stranger's Child is Alan Hollinghurst's first novel since his 2004 Booker Prize winning The Line of Beauty. Fascinated with class and the ever-changing social and sexual mores of British society, Hollinghurst plunges us into the secrets and shadows of the life of Cecil Valance, a young poet, an aristocrat and a 'Cambridge man' in 1913, in the lead-up to World War I. A family dinner at George Sawles's home (Sawles being Valance's younger Cambridge friend and lover), sees events play out that will entrance generations to come. After this dinner, Valance writes a poem, ostensibly dedicated to Sawles's 16-year-old sister Daphne, which becomes a cultural touchstone and sets the world for Hollinghurst's sharp, funny, deeply observant critique of class, society, sexuality, and the world of literature and literary reputation.
In a homage to Evelyn Waugh – and particularly Brideshead Revisited – Hollinghurst jumps decades to view the events of 1913 again as they have grown in significance, both personally and culturally, with each section taking up the story from a slightly different perspective. The second section takes place in the period between the two World Wars, the third occurs in 1967, the fourth in 1983, and the last in 2008. We meet the people who will write biographies and reassess the value of Valance's – and their own – contribution to English literature. We also follow the ever-diminishing life of Daphne as her secrets are dissected; her life retold and all but dismissed.
Hollinghurst's ability to draw out the effects of a seemingly innocuous event down the years, against the ever-changing social order of England, is remarkable. Through class, wealth, the effects of war, the decriminalisation of homosexuality, the advent of same-sex marriage, and a critique of how literary myths are created, Hollinghurst paints a broad canvas, that, despite losing some energy towards the end, is beautiful and enthralling.
Pip Newling is a freelance writer and a staffer at Readings Hawthorn.
This item is not currently in-stock, but it's available to order online.
Please note, our stock data is updated overnight, and availability may change throughout the day. Prices are subject to change without notice.