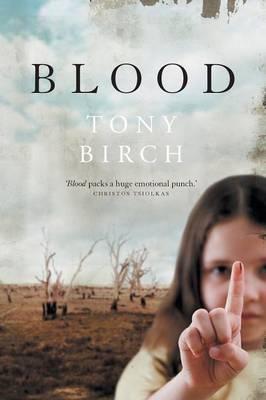 Blood
From the moment he saw her, wrapped in a blanket at the hospital, Jesse knew that he'd be the one to look after his little sister, Rachel. Mum was always on the move and always bringing home trouble. When his mum's appetite for destruction leads the little family into the arms of Ray Crow, beneath the charm and charisma, Jesse sees the brooding violence and knows that, this time, the trouble is real. But Jesse's just a kid and even as he tries to save his sister, he makes a fatal error that exposes them to the kind of danger he has sworn to protect Rachel from. As their little world is torn to pieces, the children learn that, when you are lost and alone, the only thing you can trust is what's in your blood. Blood is an epic moral fable, a gothic odyssey set on the back roads of Australia. In understated prose touched with poetry, it finds tenderness in a world without sanctuary and the strength of innocence amidst violence and genuine evil.
Review
Tony Birch's debut novel, Blood, will surely attract a lot of interest from the many fans of his accomplished short stories. He has published two acclaimed collections, Shadowboxing (2006) and Father's Day (2009) – but this is first foray into the longer form. The move into an extended narrative can be tricky for short-story writers, resulting in a sense of the story being padded out. I'm happy to report no such awkwardness here – in fact, I stayed up late to finish Blood in one greedy gulp, so invested I was in the fate of its main characters, brother and sister Jesse and Rachel.
Thirteen-year-old Jesse is unusually mature for his age, with good reason: he's been looking after younger sister Rachel since he was five, in the face of indifferent neglect from their mother, Gwen. The siblings' longest stint in a stable-ish home is their time living in a rundown farmhouse near Melbourne airport with tattooed ex-con Jon. At first, they fear he'll be 'good with his fists', like so many of Gwen's boyfriends, but instead he turns out to be a rare stabilising influences in their lives, baking cakes and sharing life-advice, until Gwen gets bored with his domestic ways and kicks him out. Later, an unexpected stay with Gwen's father, a reformed alcoholic, provides another aborted glimmer of hope. But before long, Gwen, Jesse and Rachel are stuck with another thoroughly bad character 'good with his fists' – and Jesse takes an opportunity to make a dash for a better life, taking an audacious risk that brings seriously dark consequences.
This is a fractured fairytale, a dark Australian road story, but also an affecting tale about the bond between a brother and sister, and how the most unexpected people can transform lives. Birch delivers edge-of-your-seat suspense and engrossing characterisation in equal measures.
---
Jo Case is a bookseller at Readings Doncaster.
This item is not currently in-stock, but it's available to order online.
Please note, our stock data is updated overnight, and availability may change throughout the day. Prices are subject to change without notice.