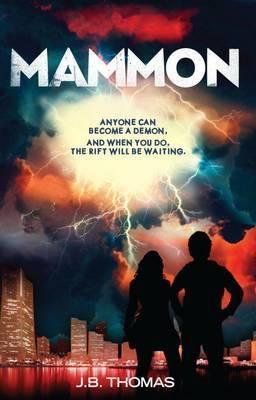 Mammon
Forget anything you ever heard about possession, exorcisms, salt circles and pentagrams. The modern demon is far more difficult to catch - and even harder to destroy. After the savage, tragic deaths of their parents, Grace and Joe Callahan learn that they are descendants of the sarsareh - an ancient order of mercenaries who hunt very special prey. Grace and Joe take their place in the Order, but are treated with hostility and fear by other recruits. For the Callahan siblings have powers that fascinate and terrify. Joe is a Ferryman, capable of opening dimensional rifts, while Grace's telepathic abilities surpass anything the Order has ever seen. To complicate matters, Grace falls for her older, more experienced squad leader, Ivan. Meanwhile, the sarsareh elders have their own plans for Joe. But none of that will matter if the powerful demon Mammon manages to convince Joe to open a gateway to his demon world and overrun Earth with his armies. If he succeeds: game over.
Review
by Holly Harper, Children's Book Specialist
On the day that Grace Callahan sees a boy with a strange shadow clinging to him, everything changes. At first the changes seem unusual, but not dangerous – she can project her thoughts into her brother Joe's mind. Joe also discovers gifts he never knew he had, like the ability to create strange rifts into other worlds.
But the novelty of their powers soon wears off when they and their parents are attacked by dark forces – a team of demons headed by the powerful and merciless Mammon, who has learned of Joe's rare ability to create rifts and decides he must have him. In the ensuing fight with Mammon, their parents are killed, and Joe and Grace's lives are changed forever.
They are sent to stay with their aunt at the Renfield Academy where they must train to become demon hunters known as sarsareh and develop their powers to fight evil. While Joe is accepted straight away because of his rare talents, Grace finds it harder to fit in and immediately draws the unwanted attentions of the mercenaries who train there – though there is one soldier in particular she wouldn't mind catching the eye of.
Mammon is a fantastic dark fantasy debut from Australian author J.B. Thomas. I was fascinated by the mythology in Mammon – the fact that demons aren't summoned, but merely come to be when a regular person is evil enough. The Renfield Academy, with its prison of psychopathic demons and its core staff of psychics and mercenaries is the perfect backdrop for this exciting demon tale. It's also a real thrill to see a great core of villains, and the demon Mammon and his assistants are some exquisitely evil characters – in one memorable scene onboard a ship he throws a servant into the ocean for ruining his favourite shirt.
For horror fans, this first book in the new Ferryman Chronicles is a must – great world-building, high-stakes action, and some wonderfully wicked villains!
Holly Harper is a children's bookseller at Readings Carlton, where she organises the kids and YA e-newsletters. She also writes for younger readers under the name H.J. Harper. Find out more about her Star League series and more here and follow her on twitter - @hj_harper.
Mammon is out now in paperback ($18.95) and ebook ($17.05). You can read a sample of the book below.
A book by Booki.sh
This item is not currently in-stock, but it's available to order online.
Please note, our Carlton shop is currently under renovation. We have a pop-up shop nearby, carrying a select range of titles. Please call the pop-up shop on 03 9347 6633 for enquiries about specific titles.
Our stock data is updated overnight, and availability may change throughout the day for in-demand items. Please call the relevant shop for the most current stock information. Prices are subject to change without notice.