Rhythm, Chord & Malykhin: From the author of the sensational TikTok hit, FROM LUKOV WITH LOVE, and the queen of the slow-burn romance!
Mariana Zapata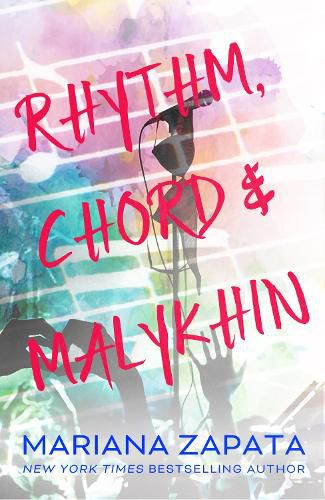 Rhythm, Chord & Malykhin: From the author of the sensational TikTok hit, FROM LUKOV WITH LOVE, and the queen of the slow-burn romance!
If you loved From Lukov with Love - the sensational TikTok hit that is captivating readers all over the world - then you don't want to miss any of Mariana's unique romances! No one writes slow burn like Mariana Zapata and her millions of fans agree!
'Gosh I love this author's novels. She does the slow burn romances perfectly - keeping me hooked and intrigued due to amazing characters and dialogue'; reader review
'Her books are incredible, slow-burn perfection'; reader review
'I adore this book! I've reread it a few times and it never fails to make me laugh. A true girl next door romance with a rock twist'; reader review
'Every time I read a Mariana Zapata book I think why have I not read this before ?? I absolutely love how good the writing is, she just grabs you and keeps you there … I cannot recommend her books strongly enough!'; reader review
'This talented author is my first to go to for reading a slow burn, humorous, romance story'; reader review
'Another great book from the talented Ms Zapata. This book had me laughing so hard at times I couldn't see … Definitely a must-read book'; reader review
'Omg … this was so good … it was funny, heartwarming … Well done, Mariana Zapata. I love it when a book can make me laugh … and it really did!!!!'; reader review
'Oh my gosh! This book … WHY have I waited SO LONG to read it. I am 100% OBSESSED with everything that is Gaby and Sacha'; reader review
…………………………………..
Twenty-six-year-old Gaby Barreto might be a lot of things (loyal, sarcastic, one of the guys and a pain in the butt depending on which family member you ask), but dumb isn't one of them. When her twin brother invites her to go on tour as his band's merch girl, she isn't exactly screaming at the top of her lungs with joy.
With no job opportunities pounding on her door, an ex-boyfriend she would still like to castrate, and no end in sight to moving out of her parents' house in Dallas … It would be dumb to say no to the chance of a lifetime. Two bands, three continents, one tour. Spending the next ninety-plus days with three beloved idiots and eight complete strangers shouldn't be a big deal, right?
If only the singer of the headlining band didn't have tattoos … a great personality … a fantastic body … and if he wasn't so funny …
Let's be real: Gaby never had a chance against Sacha Malykhin.
…………………………………..
Want more of Mariana's delicious slow burn? Why not start with her sensational hit, From Lukov
This item is not currently in-stock. It can be ordered online and is expected to ship in approx 2 weeks
Our stock data is updated periodically, and availability may change throughout the day for in-demand items. Please call the relevant shop for the most current stock information. Prices are subject to change without notice.