Size: The Measure of All Things
Vaclav Smil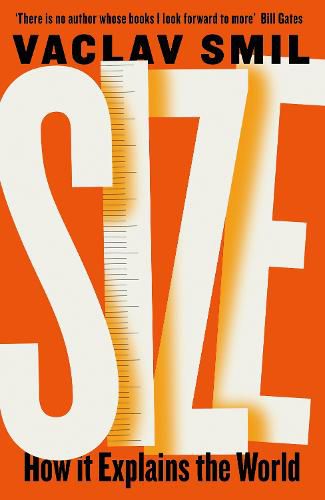 Size: The Measure of All Things
Following his New York Times bestseller How the World Really Works, Vaclav Smil returns with a mind-opening exploration of how size defines life on Earth (and beyond) - from microbes to economies and the expanding universe
To answer the most important questions of our age, and secure our future, we must understand size. Neither bacteria nor empires are immune to its laws. Measuring it is challenging, especially where complex systems like economies are concerned, yet mastering it offers rich rewards.
Grounded in history and drawing on the latest science, with much recourse to art and classic literature, Size explains the regularities - and peculiarities - of the key processes shaping life (from microbes to whales), the Earth (from asteroids to volcanic eruptions), technical advances (from architecture to transportation), and societies and economies (from cities to wages). We learn, for example, the rules governing beauty, why a biosphere needs diversity, how to predict the size of a country, why bigger animals need proportionately less food and how a particular level of wealth inequality is inherent.
Is bigger always better? Can something keep growing indefinitely, or be too big to fail? Vaclav Smil tackles this goliath subject and it is no exaggeration to say that this tour de force will change the way you look at absolutely everything.
This item is in-stock at 6 shops and will ship in 3-4 days
Our stock data is updated periodically, and availability may change throughout the day for in-demand items. Please call the relevant shop for the most current stock information. Prices are subject to change without notice.